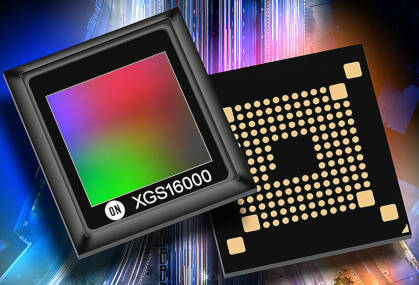 XGS 16000 is a 16Mpixel global shutter image sensor for factory automation by On Semiconductor.
Consuming 1W at 65frame/s, it fits into standard 29 x 29mm industrial cameras with C-Mount lenses  – it has a 1:1 square aspect ratio.
It also shares a common architecture and footprint with other XGS CMOS image sensors, enabling users to create a single camera design to develop products in different resolutions. Bayer colour or monochrome options are available, as are slower versions – 65frame/s is the maximum full-resolution frame-rate.
Global shutter operation reduces motion blur and distortion compared with rolling shutter sensors "increasingly important in automation, inspection and identification applications", said On.
Toshiba Teli has already built the device into DDU1607MG/MC, an industrial camera that can deliver 16Mpixel monochrome or colour resolution. For video output and camera control, two channels of USB3.1 Gen1 (USB3.0) have been included – data transfer is at up to 10Gbit/s (2 x 5Gbit/s). Frame rates up to  47frame/s are available across both USB channels (8bit mono images) or 23frame/s on a single USB.
For development, there are colour and mono versions of the XGS 16000 X-Cube and X-Celerator developer kits. High-speed conversion to MIPI interface examples are provided with the kits to allow integration with FPGA evaluation environments.
Applications are foreseen in robotics, inspection systems and intelligent transportation systems.
The XGS 16000 product page can be found here